La musique de jeux vidéo – juin 2019 à Gex et Thonex
MISSION et OBJECTIFS
– Faire découvrir à un grand public la beauté et la qualité de la musique de jeux vidéo
– Fédérer les passionnés de jeux, les musiciens et les choristes amateurs du Pays-de-Gex autour d'un projet – événement novateur, motivant et dynamique
– Amener la musique symphonique chorale auprès d'un public jeune, peu sensibilisé à la musique « classique », et lui donner les clefs pour mieux la comprendre et l'apprécier.
INDICES ET RENSEIGNEMENTS
Répétitions le vendredi de 20 à 22 heures, salle Béjart, Ecole des Vertes Campagnes, 143 Rue des Vertes Campagnes, 01170 Gex.
Cotisation : pour les moins de 25 ans, 20€ (participation pour les partitions) et pour les plus de 25 ans, 50€
contact@choeurclassiquepaysdegex.fr
+41 79 256 86 31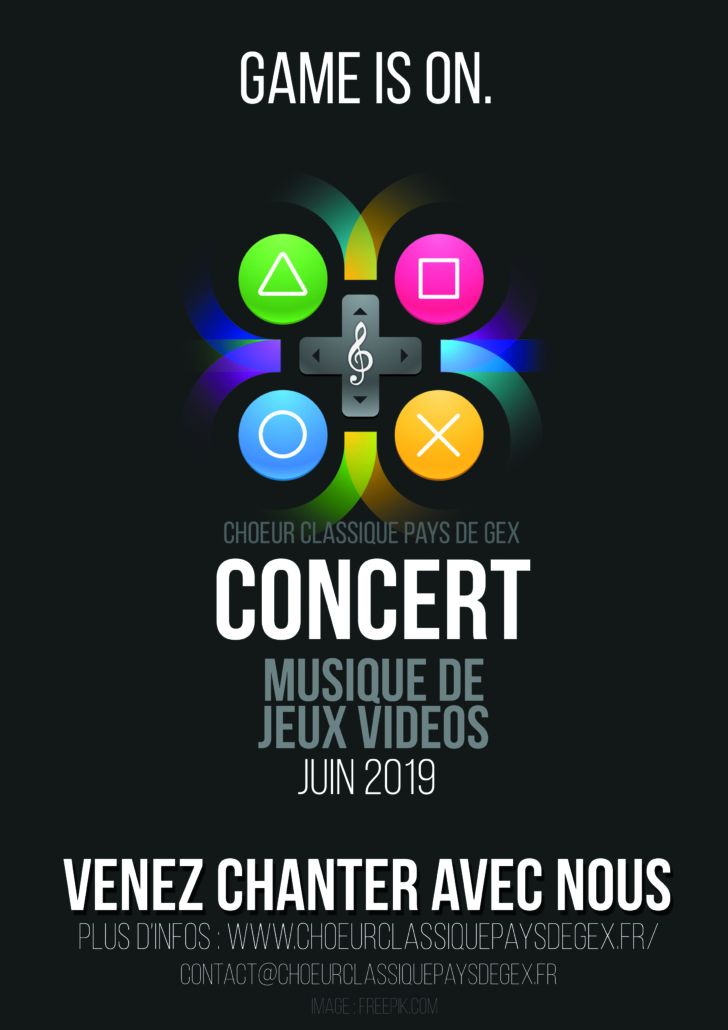 AU PROGRAMME
Une création mondiale d'une oeuvre commandée par l'Orchestre des Trois-Chêne à Carlo Ciceri.
La symphonie n°1 de Vassili Kalinnikov (1866-1901)
Halo trilogy medley
Lament of the highborn, extrait de World of Warcraft: The Burning Crusade
Super Smash Bros. Brawl
Space Suite extraits de Star Fox & Star Fox 64 (Symphonic Legends)
Tank! extrait de Cowboy Bebop
Conan
Sogno di Volare, thème de Civilization VI
Baba Yetu, thème de Civilization IV
ÉVÉNEMENT FÉDÉRATEUR  !
Cet événement, c'est tout d'abord le rassemblement des passionnés de jeux vidéo et des jeunes issus des collèges, lycées et écoles de musique – conservatoires du Pays de Gex que nous convions à partir de janvier 2019 pour préparer des œuvres de musiques de jeux vidéo.
Ce sont ensuite deux concerts  en juin 2019 à la halle Perdtemps de Gex et à la salle des fêtes de Thonex , accompagnés de l'Orchestre symphonique des Trois Chêne (Genève) et dirigés par le chef Arturo Corrales. Le chœurs sera placé sous la direction de Julián Villarraga.
Le Chœur classique du Pays de Gex est soutenu par la Communauté de communes du Pays de Gex, la Ville de Gex et des partenaires privés.
La Fédération française de jeux vidéo parraine l'événement.